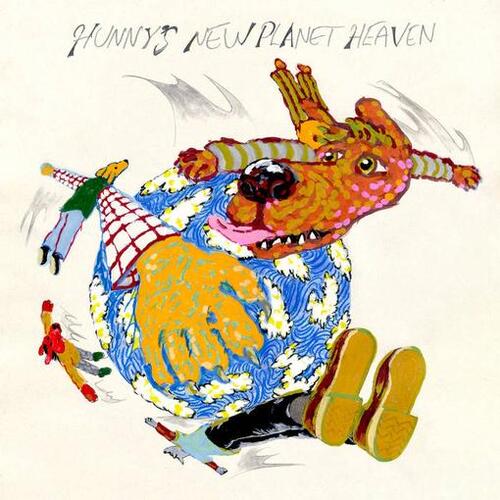 HUNNY - Hunny's New Planet Heaven (Eco-mix Vinyl)
HUNNY - Hunny's New Planet Heaven (Eco-mix Vinyl)
Shipping Weight:
0.4500kg
Date of release: Dec 22 2023
Shipping Weight:
0.4500kg
The group's second LP for Epitaph finds HUNNY playing in a brand-new musical sandbox, balancing the haze of hindsight with a sun-soaked SoCal summer.
From the meditative track "my own age" and breakbeat-backed, late '90s-leaning "all my luck" to the lo-fi punk standout "ring in your ear" (featuring Motion City Soundtrack's Justin Courtney Pierre) and made-for-dashboard-drumming "89cc" (complete with a searing sax solo) the album is a testament to the band's musical fluency and dedication to their craft.
HUNNY was born out of the tight-knit North LA indie-rock scene of the mid-2010s, sharing stages and even band members with acts like The Neighbourhood and Bad Suns from an early age. The band is well established in the digital space, having racked up over 300+ Million streams to date on their catalog.
By the time the band had secured a record deal with legendary Epitaph Records and released their 2019 debut full-length, Yes. Yes. Yes. Yes. Yes., outlets like Alternative Press were hailing HUNNY - vocalist/guitarist Jason Yarger, guitarist Jake Goldstein, bassist Kevin Grimmett and drummer Joey Anderson - for their spin on "perfunctory electronic and new-wave pop, teeming with love, heartbreak, neuroses and impeccably sweet dancing shoes."
Now, on the verge of entering their second decade together, it's clear HUNNY's greatest asset is their disinterest in doing anything besides what moves them. It's afforded them great range as a band, the ability to naturally shapeshift on their own albums as well as win over audiences across the entire rock spectrum. Most importantly, it's propelled them to be unapologetically themselves and trust what's gotten them this far.
Tracklisting:

| | |
| --- | --- |
| 1. | Bothering |
| 2. | Sixteen Stitches |
| 3. | Action --> Reaction |
| 4. | Big Star |
| 5. | 89cc |
| 6. | My Own Age |

| | |
| --- | --- |
| 7. | Ring In Ur Ear (Ft. Justin Courtney Pierre) |
| 8. | Solo |
| 9. | Nothing Amazing Happens |
| 10. | All My Luck |
| 11. | Kick Ur Teeth In |
| 12. | Palm Reader |
Vinyl release of Hunny - Hunny's New Planet Heaven (Eco-mix Vinyl). Released through EPITAPH and available on LP.