Buying Guide
---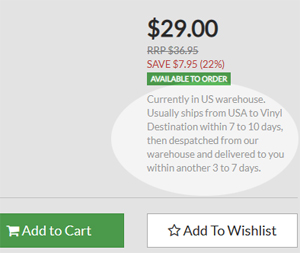 If you are a first time user, please note - we are an importer of vinyl records and not all products on our site are in stock in our Melbourne warehouse. We currently hold over 20,000 units in our warehouse. Our catalogue contains close to 50,000 titles so we can't keep everything in stock at any one time.
If its on our site, it is either in stock in our Australian warehouse or in stock with one of our partner warehouses here in Australia or overseas. We order from our suppliers and distributors daily and receive shipments containing hundreds, if not thousands of vinyl, daily.
Before you buy, please note the availability of each item in each product's main view. You will find it near the price of each item (as pictured right).